[I have moved my previous post in "Mosrite guitars Vintage USA" section to here]
Nokie Edwards was the one who inspired me to play Ventures tunes some 50 years ago. Never be able to master my guitar skill but at least I can say that I have met the "Maestro" himself who inspired me.
I had the great pleasure and honor to meet with Nokie in 2007 at his 72th birthday party in a small town called Florence near Salem, Oregon and many more times later. After our 1st meeting, I started to collect some of his personal guitars.
Nokie loved to try different guitars / basses during his career. He was a Telecaster guys when he played lead with other bands or his. He used a Fender P-Bass when he was asked to join The Ventures Band. Most of his previously used guitars were long gone when I met with him in 2007. But I was fortunate to get a few from him.
He was busily involved in his own creation of "HitchHiker" guitar when I met him in 2007. Normally, when we talk about Nokie Edwards' HitchHiker guitar, we all think of the electric guitar he currently play on stages or at concerts like this one.
But actually there are three types of HitchHiker guitars:
1)Electric guitars: It has three generations. Started with Chavel Custom Shop (before they were bough out by Fender), then made by Rock Creek Guitar Company in Oregon, and now made in Japan by Aria. Not sure how many HitchHikers were made. My guess is between 50-100, maybe more.
Chavel model (the one is S/N #002)
Rock Creek model (this one is the prototype)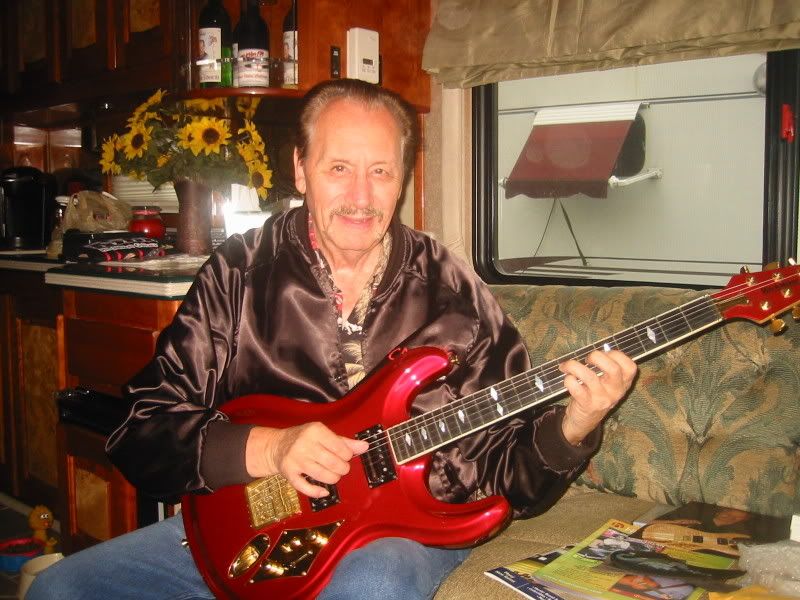 I do not own an Aria HitchHiker model but played one once. The one with whammy bar is really nice.
2)Steel string acoustic guitar: Made by Santa Cruz (based on Santa Cruz FS Model but with HitchHiker head stock). I believe only 3 have been made. Nokie has one (unless he sold it later on), I've got one and he sold one to someone in Japan. Nokie used this guitar for recording quite often.
3)Classical nylon string guitar: Made by a guitar luthier Roger Stuckless in Canada. I believe only this one was made.
How do they sound? I will let you judge yourself.
Santa Cruz FS HitchHiker
https://www.youtube.com/watch?v=Mrd7tfDL30g
Chavel Electric HitchHiker:
https://www.youtube.com/watch?v=3QD7Pp-
... ARfw2htuCe
Here is the photo of Nokie played Rock Creek prototype. Unfortunately, there was no recording of the playing.
I am not sure the HitchHiker Nokie played at Mark Moseley's recording studio was made by Rock Creek or Aria Japan. (Probably an new Aria?) I think Mark is nephew of late Semie Moseley. Nokie uses his studio for most of his recording.
https://www.youtube.com/watch?v=PHg5qijLFK8
HitchHiker Nylon Classical:
I don't think Nokie ever performed Roger Stuckless HitchHiker Classical on stage. That guitar is way too valuable to carry on the road.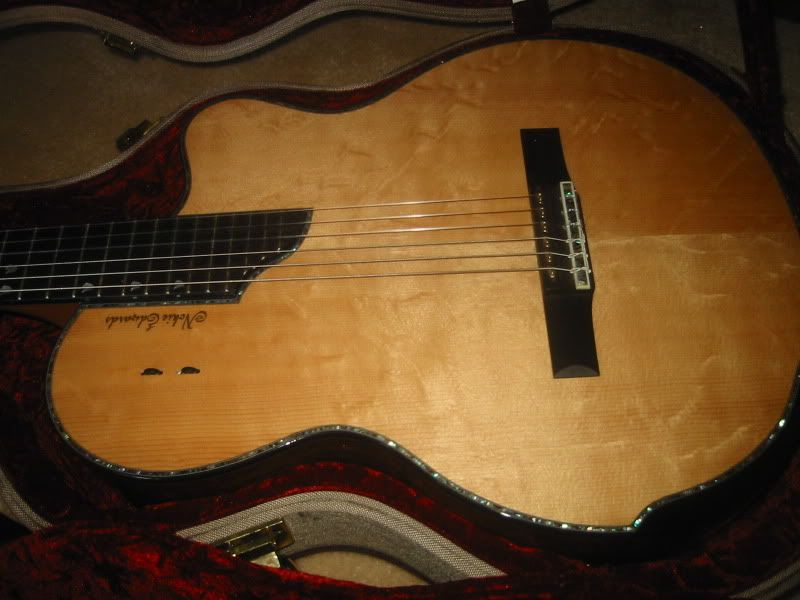 Very old Brazilian rosewood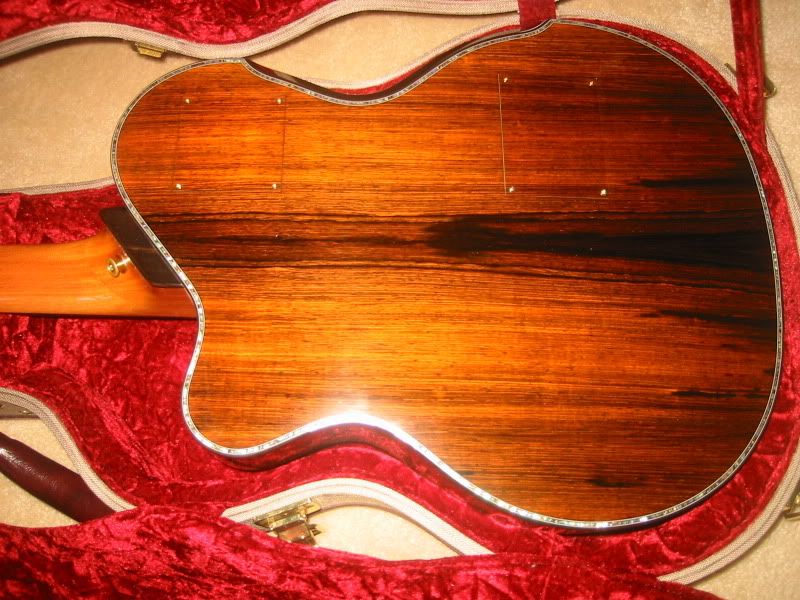 Guitar case alone is a piece of art: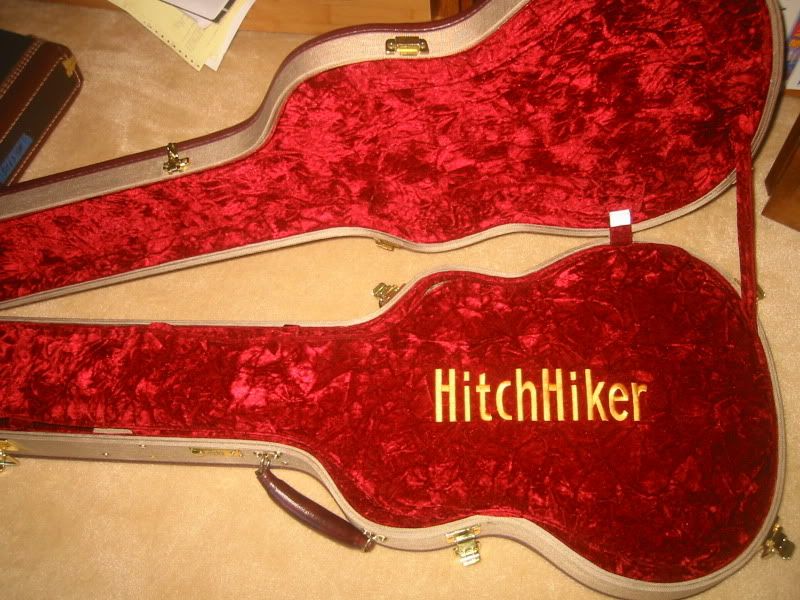 For nylon classical guitar, Nokie performed with a 1980 Gibson Chet Atkins Custom shop classical which I am very lucky to own: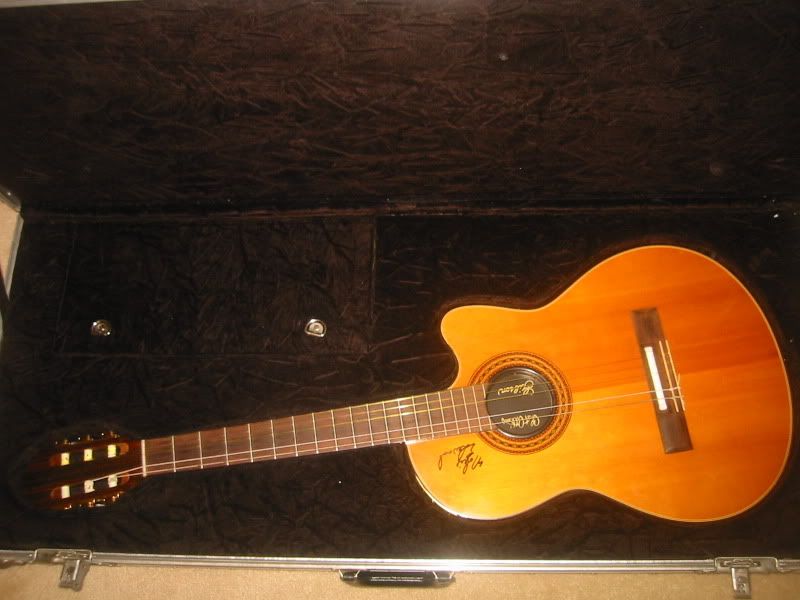 Ventures Concert in Japan 1984: "Yesterday" with Jerry McGee
https://www.youtube.com/watch?feature=p
... -QAByOpjjo
Ventures Concert in Los Angles 1984: "El Bimbo"
https://www.youtube.com/watch?v=KU6PunMlr2Y
More about Nokie Edwards' other personal guitars later.