Greetings, fellow Mosritians! I am so glad that enrollment has been re-opened on this forum, and I look forward to interacting with everyone.
I've owned a few Mosrite-inspired Hallmarks (they are superb reimaginings of Semie's original concepts) and that led me to explore what a traditional Mosrite is all about.
At present, my only experience with a "Mosrite" is a c.1990s Kurokumo, which I believe is either a Super Excellent or a '64 Super Custom; it's hard for me to determine exactly. Perhaps one of you can help me figure out what it is; it has a sunburst neck and back, Ventures logo on the headstock, and Vibromute tailpiece. At any rate, as received (shipped to me from Tokyo) it was in long-neglected condition; one pickup lead was disconnected and it would not stay in tune. I ended up completely disassembling the roller saddles and vibrato, which I cleaned, polished and re-lubricated. After a proper set-up, it became a truly superb instrument, with very stable tuning. Yay!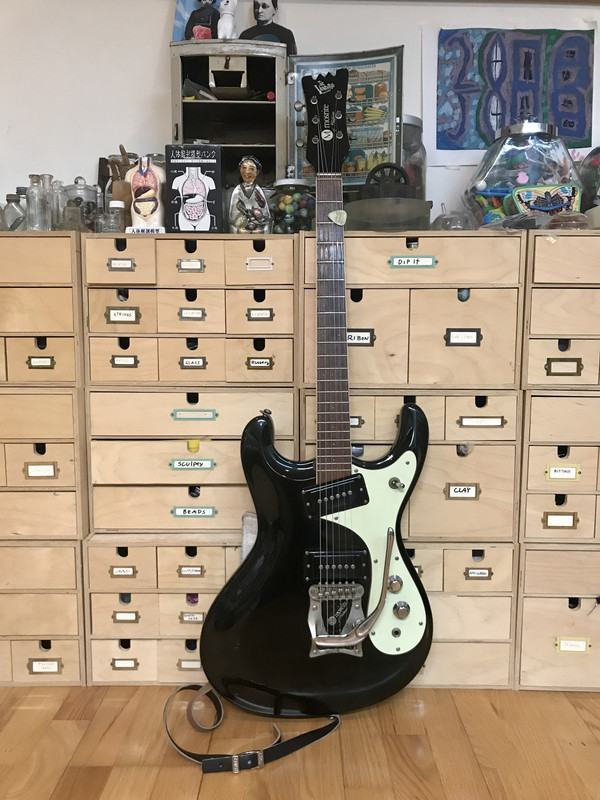 I like my Japanese Mosrite so much that I started thinking about getting a "real" Mark 1, one that was made in Semie's workshop. Unfortunately, 1960s Mosrites are out of my price range these days, but a 1971 V1 became available at a price I can swing from a private seller a couple of hours away, and I have an appointment to drive out there on Friday to take a look and possibly purchase. The fellow selling it bought it a couple of years ago from Chicago Music Exchange, so it shouldn't need any serious work.
According to the seller, the zero fret measures 1-11/16", which is slightly wider than '60s Mosrites, but still pretty close to what I am used to on the Kurokumo (which is maybe 2mm narrower). I believe the '71 has speed frets, which I have yet to experience and hope will not be a deal-breaker. That said, the original frets on my '64 Guild Starfire III are pretty darn low and I have adjusted to them.
Aside from the slightly wider neck and larger headstock, what other differences (if any) should a '71 model have vs. a mid '60s model? I recall reading that in the early '70s, Semie was still installing surplus hardware from the '60s on new guitars. As long as I can play it comfortably and it has the classic "hot" sound found on the Ventures' records, I'm pretty sure I will be bringing it home.
This is the 1971 Mosite I am considering purchasing: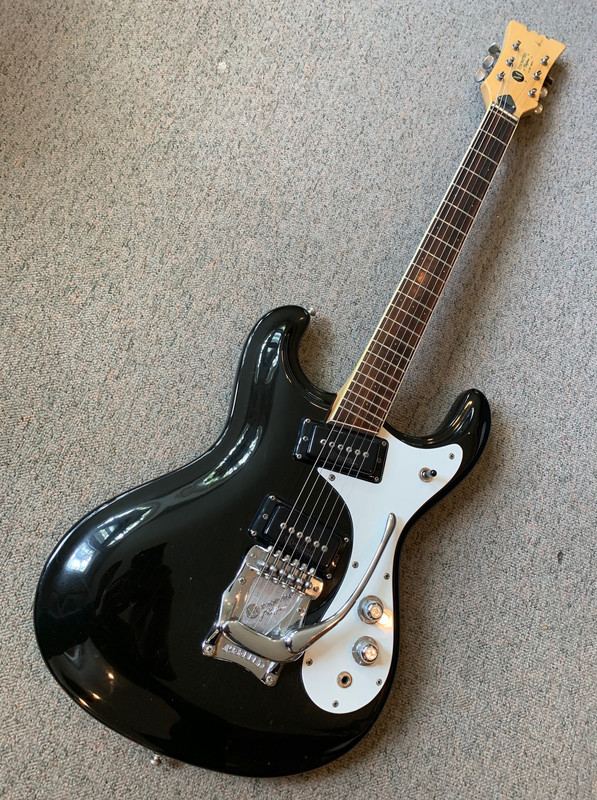 Are these speed frets?: