Hey guys, figured I'd post this to build upon the Mosrite database a few of the posters have here and also for your own viewing pleasure. Quick backstory: I've been a fan of Mosrites for years. I was in high school when I first came across a picture online. After seeing the prices they ran for, I wrote off the possibility of owning a real one and looked instead to the Univox copies, of which I own a Univox Hi-Flyer bass. My grandfather passed recently. We unfortunately weren't close, but that's related to issues not regarding him. Anyways, I knew he played guitar and knew he had some old guitars, but I never inquired in detail about it. My father found one of the guitars and said he would probably have just thrown it out, but that he knew I liked old guitars, so he wanted for me to look at it to see if I wanted it. Then he pulled this guitar out of its case and I recognized the headstock immediately. To be totally honest, I still can't believe I own this thing. It wasn't kept in the best environment over the years, but the neck is straight and the electronics work fine. I'm still getting used to the thin neck and tiny frets (my other guitars are 25.5 scale with otherwise Les Paul specs), but this thing screams. When my jaw dropped after my father showed me the guitar, he asked if it was worth anything. I told him what it was worth and that I would never sell it. It's an heirloom and plugging it into an amp verified that.
Based on what I've seen from the serial number collections, my Mosrite is a transitional model with a few aspects that are out of whack from other models, so I will list them out for you and include some pictures. To the specs: the serial number is B468; neck was made on January 17, 1966 (#0008); Body was made on January 10, 1966 (#0038); Moseley tremolo; truss rod on the body side of the neck; hat knobs with T and V played on knobs; a three-way selector that seems designed to flip from the bridge to the neck, whereas from neck to bridge clicks first into the middle position, as would be anticipated; small fret markings with two dots indicating the 3rd, 5th, 7th, and 9th frets, one dot marking the 15th, 17th, and 19th frets, and three dots marking the 12th fret; epoxy covered pickups; pickup cover covers the pole magnets; orignally cream colored; tortoise shell pickguard; Kluson tuners; zero fret; 24.50 scale. I hope this information is helpful to your guys' data collections. If you have any other questions, I will more than happily answer them. Now to the pics (I apologize in advance from my prepaid smartphone camera images):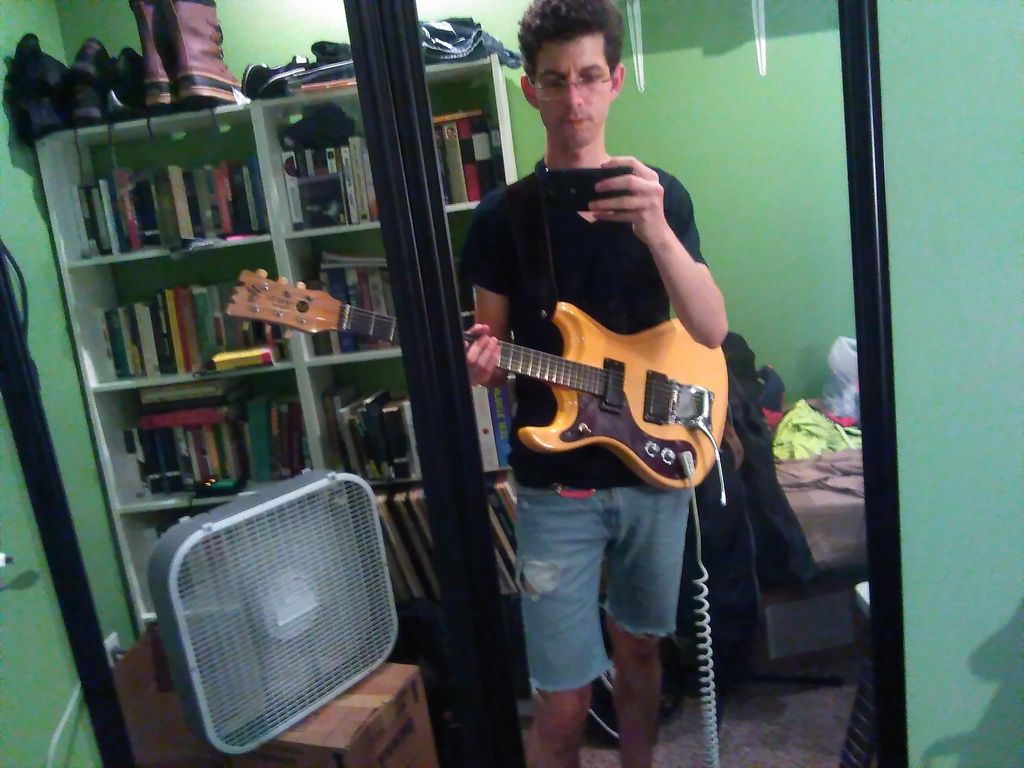 Pictured also is my '79 Memphis neck-thru.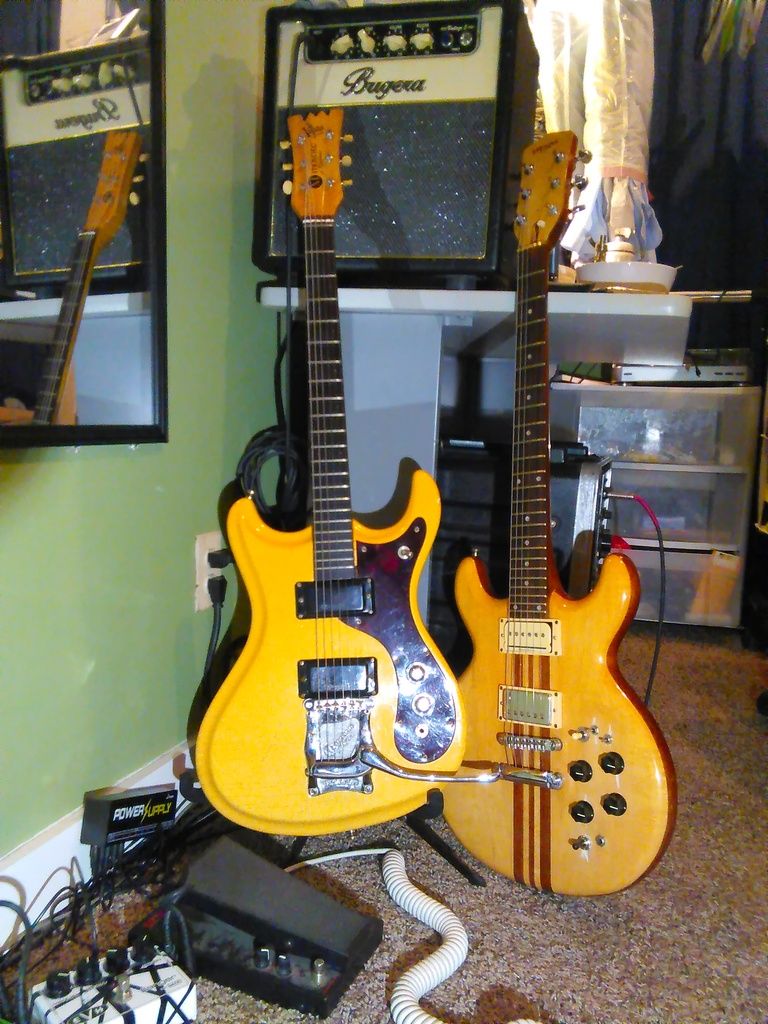 Visual wear: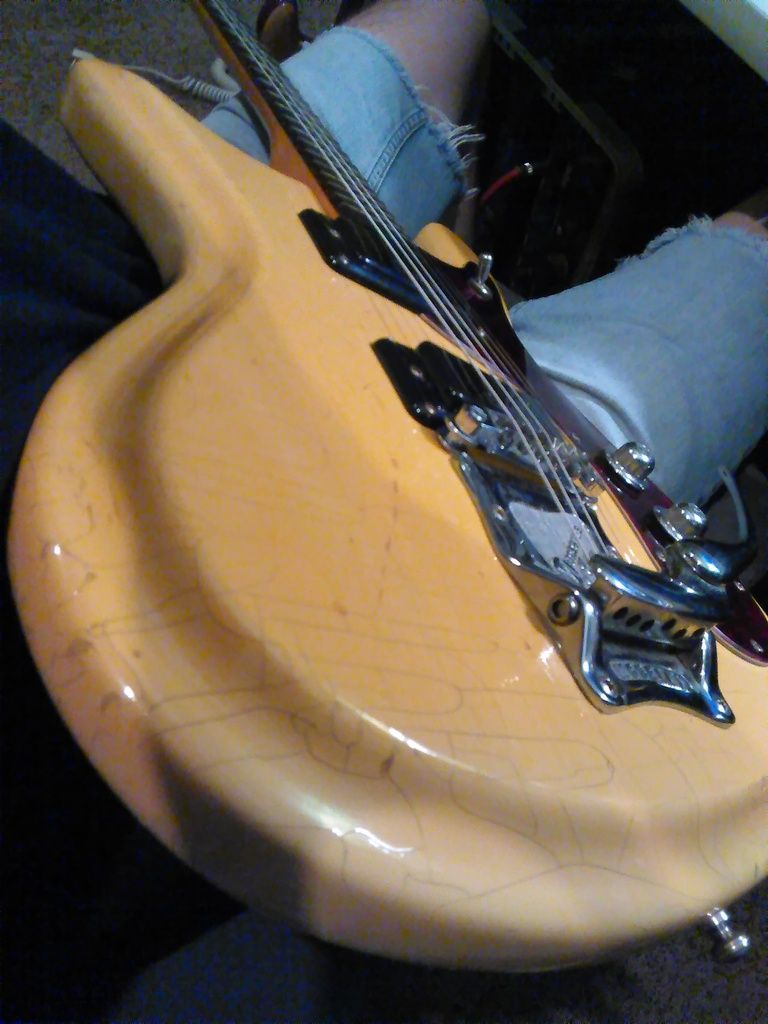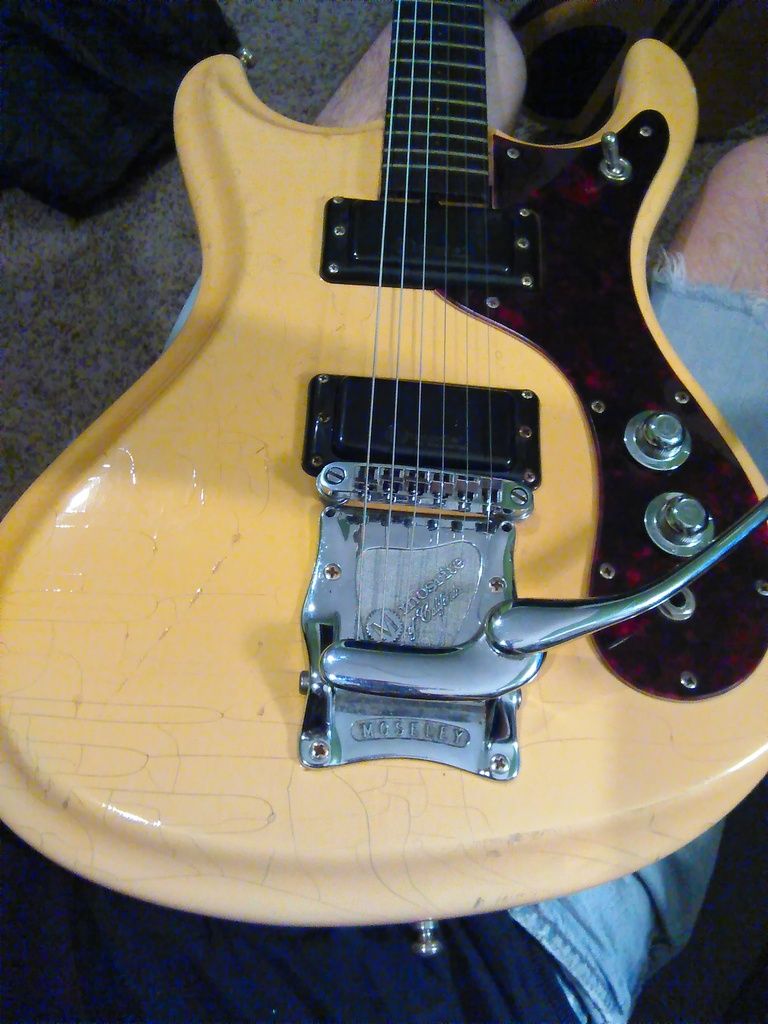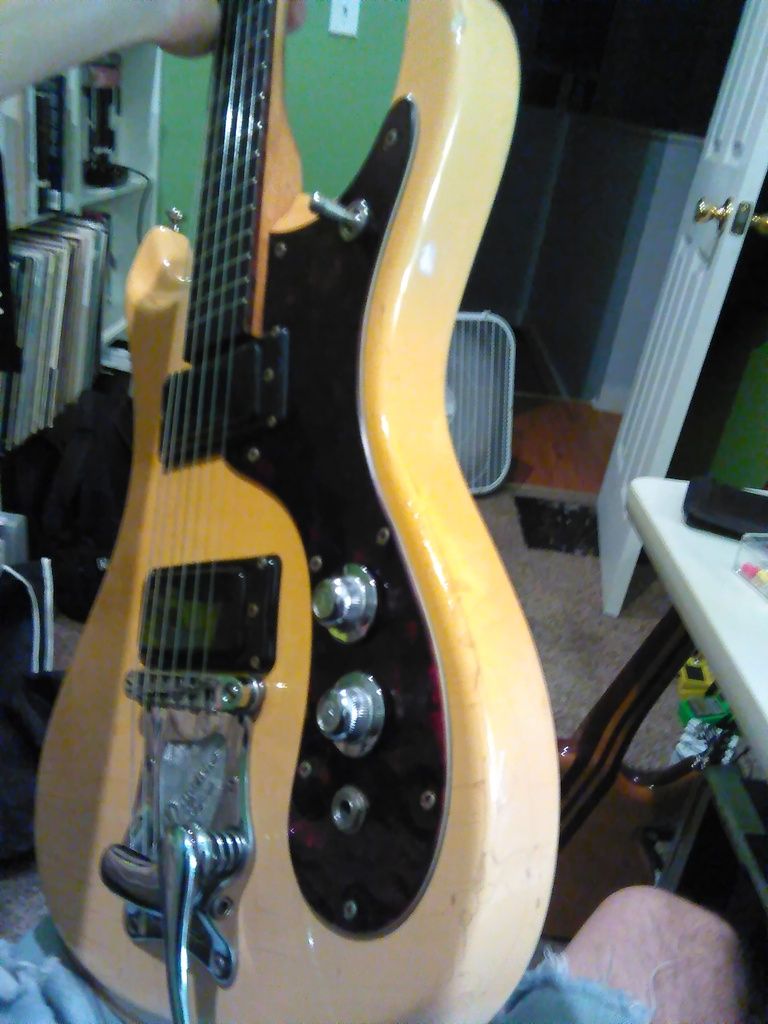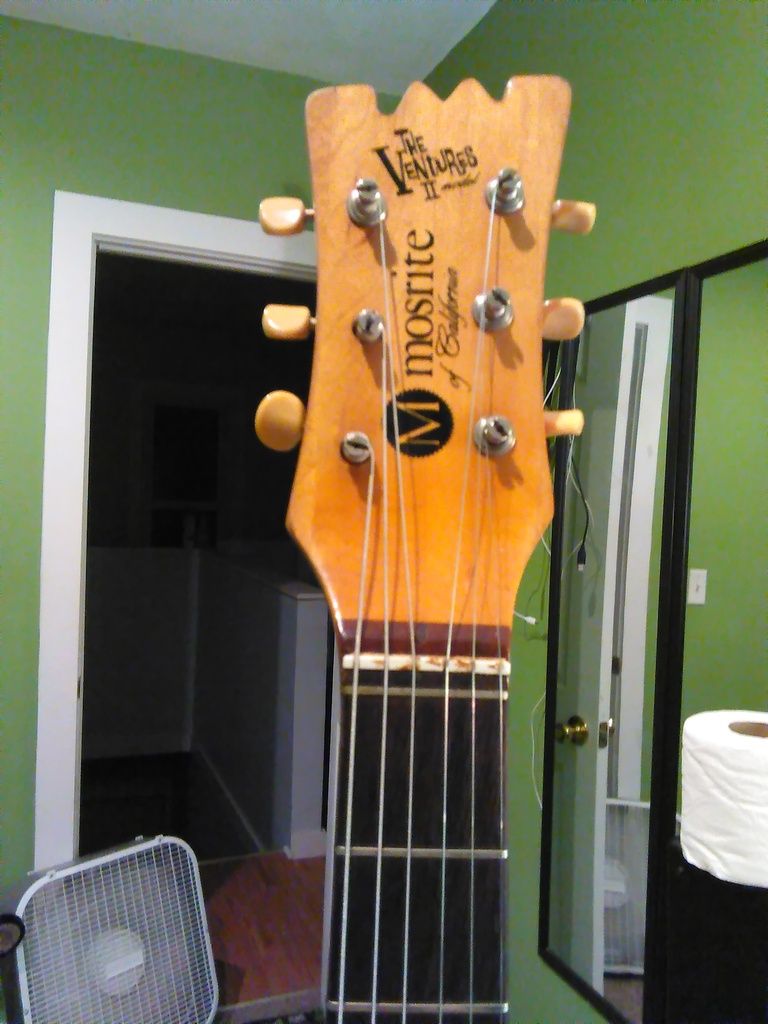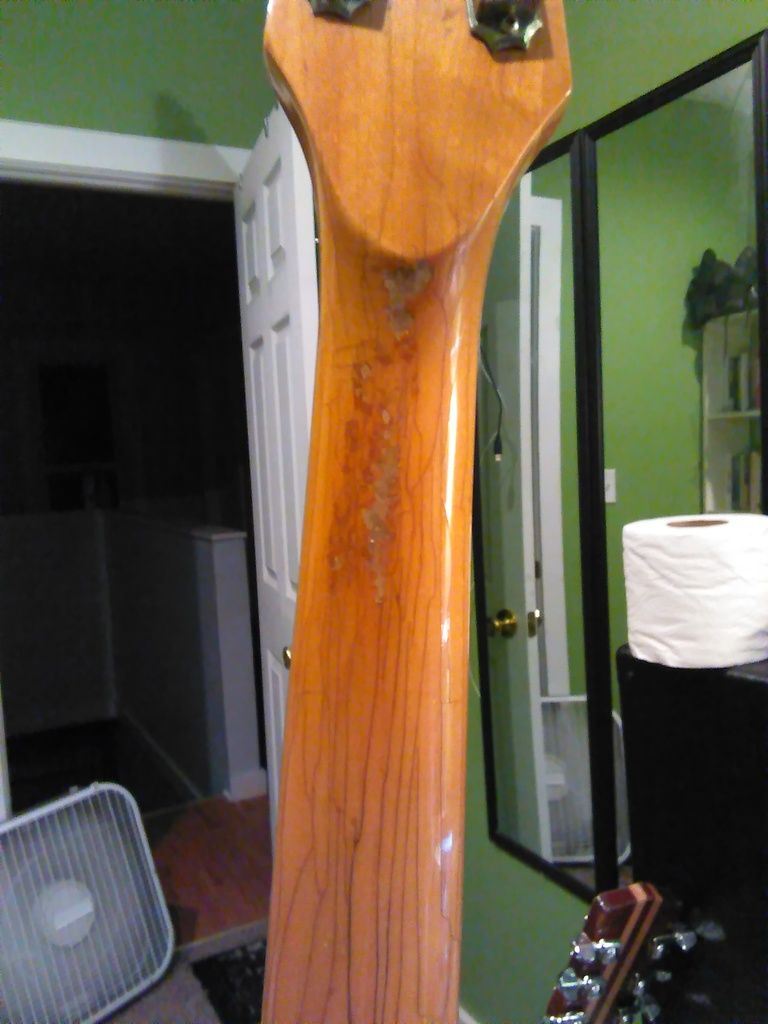 A peek at the original cream color, versus the yellow it has turned into over the years:
I was shocked to see dates stamped, including what may or may not be a luthier signature: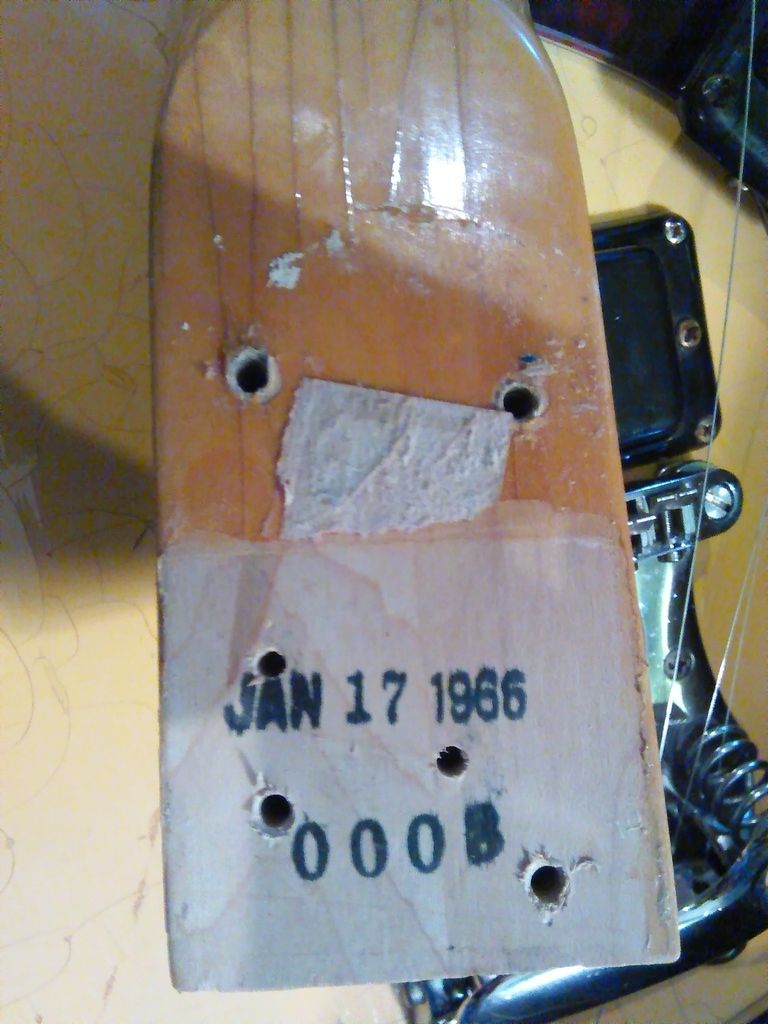 Serial number stamped on the fretboard: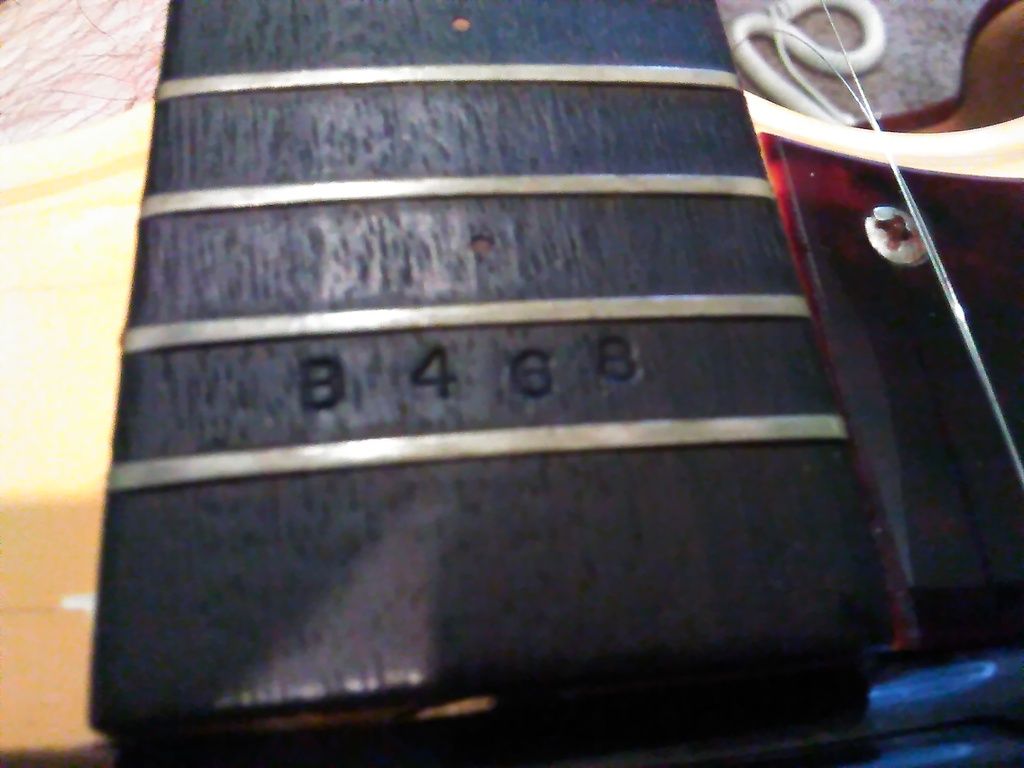 Pups: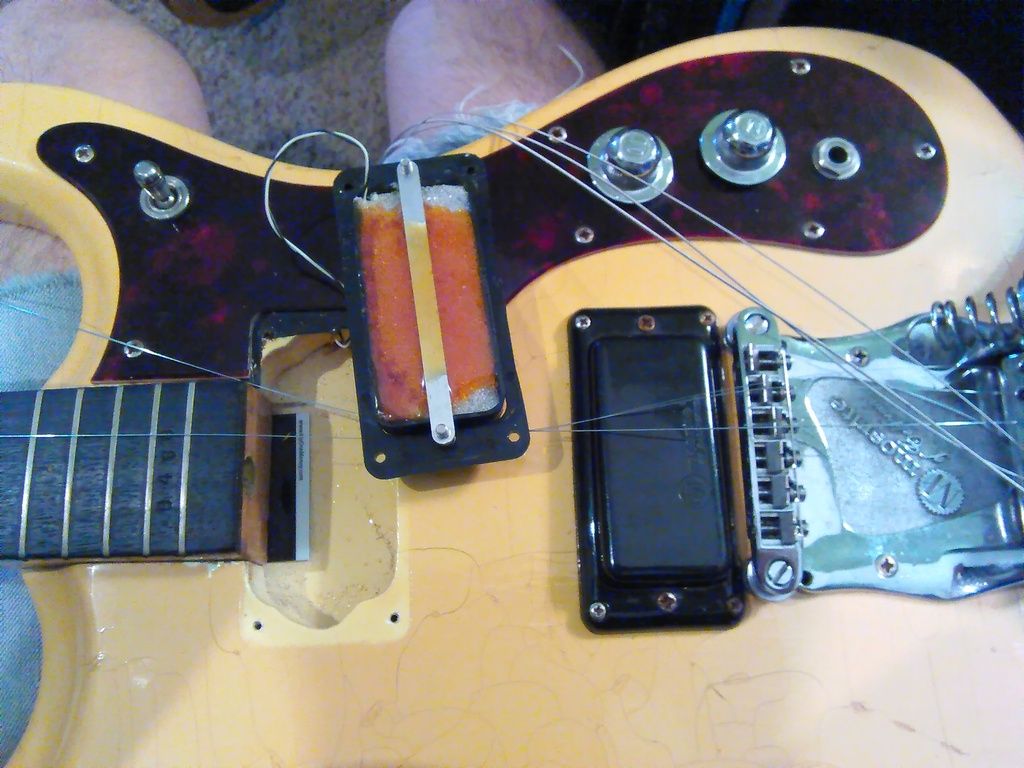 As I said, if there is any other technical info you'd like to know, I will provide it. As well, if you all have any info you could provide me, I would greatly appreciate it. I've been a gear head since I started playing guitar and always love to learn new things about what I've got.