I saw it cheap (kinda) and grabbed it. Belive it or not its another refin! They did it blue, almost looks just like my 65 when i first got it. URG! The paint on this one comes off really easy with sand paper but kinda mars the original finish (by the way its blue underneath...and why they refined a blue guitar blue is beyond me) Heres where the experts kick in (you guys) I dont think the head gun and guitar pick will work as well on the new one as did the last, this one has thiner cheaper paint. a light rubbing of sand paper will do it but gets the under as well. Is there a method or solvent i should grab? Tryed thiner and didnt really cut it. but didnt try that hard.
Anyways I got the inside shots at work and ill post em later,
the neck is stamped june of 66 and body is stamped nov 17 65, M Knobs with 1-5 and V and T on the volume and tone. Wasent there a dif verson of the M knob? Moseley trem with a bigger bar that the 65 vibramute (thicker that is.) both pickups are stamped R (i think)
Take a look and tell me what ya think.
Thanks Scot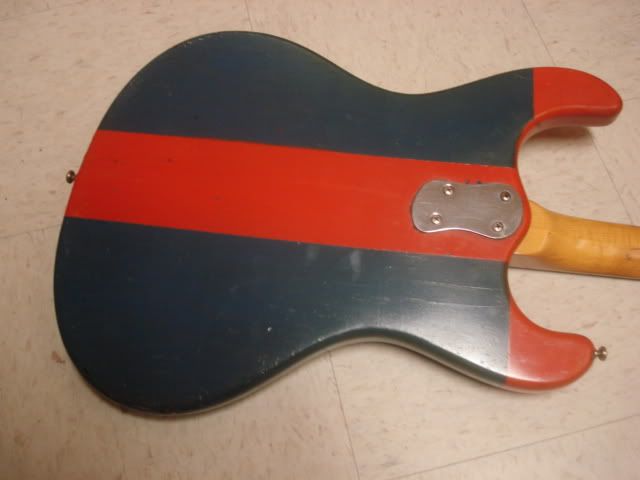 Someone tryed to cut or get the V in ventures out
Both of them together with the the "blonde's"